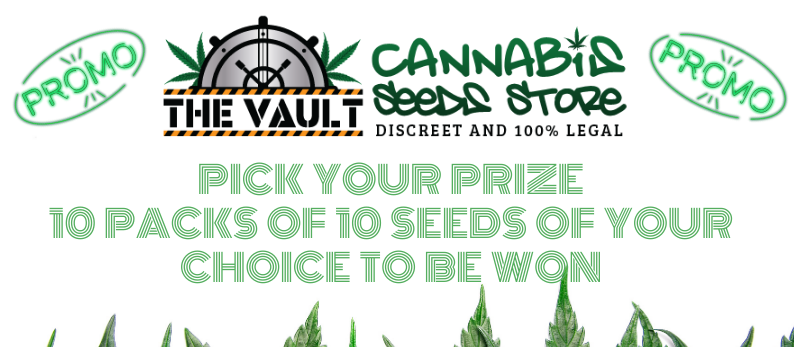 So you may have noticed that The Vault have been going crazy with our new cannabis seeds competitions, promotions and new breeders being added to the site again in 2020? If not check out all the current ones now live at our discount cannabis seeds page! At last count we had 5 live at the same time and with what we have planned, this will (pardon the pun) continue to grow over the coming weeks.
Are you ready for yet another awesome cannabis seeds giveaway? This time with a different little twist. Usually, when we run a cannabis seed competition or promotion it is in conjunction with our breeders to help build awareness of a new strain or to announce a new seed bank that has been adding to The Vault Cannabis Seeds Store's roster.
For this one we will be letting you choose the prize!
Wait…What you say Team Vault crew?
Yep, you read that right, The Vault are (possibly) the only seedbank that allows our customers to choose their own freebies in the cart in our "choose your own freebie section" when making a purchase from The Vault, so we are using that approach for this promo too. You maybe already have a favourite cannabis seed, or you might want to take a browse through our extensive cannabis seed collection to choose a strain you have had your eye on to try out, or maybe you will find something new to pique your interest?
This will allow us to gather some intelligence on what you, our customers are looking for in a strain, what's important to you, what gets you excited when choosing a cannabis seeds strain so we can further refine The Vault to even better deliver what you are looking for! Be part of our customer research and win a free 10 pack of your favourite cannabis seeds, not bad eh?
How to enter:
We will be giving away a pack of 10 seeds (or closest pack size if 10's are not an option), of your choice. There will be a total of 10 prizes too, so you're in with a good chance of winning for sure.
All you need to do, is browse the The Vault Cannabis Seeds Store website and find your favourite strain (if it's not in stock don't worry, we will order them in for you), add a comment on the blog post below with a link to the product you would like to win and maybe tell us a little bit about why that strain is your favourite, or if you haven't tried it as yet, then what is it that attracts you to that strain!
Winners will be selected by using a random number generator.
Winners will be announced on Thursday 26th November, 2020.
Why not head on over to The Vault Cannabis Seeds Store now and pick up some Cannabis Seeds whilst taking advantage of the discount code VAULT15 for a 15% discount on your order of Marijuana Seeds at The Vault Cannabis Seeds Store!
Newsletter Sign Up
Make sure you never miss another Vault promo – sign up for our newsletter at http://goo.gl/Bt2Ba2
Legal Disclaimer: The competition winners will have their prizes sent to them via recorded delivery. If you win the competition but don't receive your prize, we cannot resend competition prizes, so you'll have to raise this with your local delivery service (In the UK, for example, this would be Royal Mail).
Remember: It is illegal to germinate cannabis seeds in many countries and some remote, less enlightened planets outside the core systems. It is our duty to inform you of this fact and to urge you to obey all of your local laws to the letter. The Vault only ever sells or sends out seeds for souvenir, collection or novelty purposes.