The Best Advent Calendars of 2020
The first documented Advent calendar began in Germany in the 1800s, and have things ever changed! Today, we're going to show you The Best Advent Calendars of 2020.
We are literally in the golden age of Advent calendars, and they are trending hard – with reason!
You can find advent calendars for your cats, dogs, kids, and yes, of course; calendars for the weed lover in your life.
When you find the perfect one here, order it now because they sell out fast.
Fun & Festive Advent Calendars
Never has there been a better time of year or seasons for that matter, to turn up the cozy at home and enjoy a surprise every day to countdown Christmas!
So grab a cup of your favorite festive cocktail or hot beverage, snack on a cannabis cookie or two, and enjoy shopping for someone special.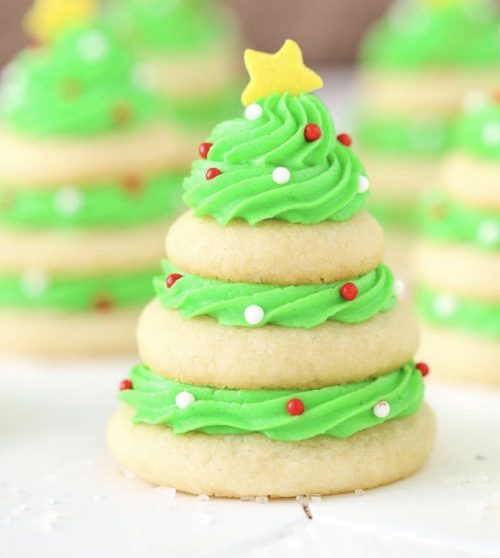 We're going to show you The Best Advent Calendars of 2020 but we can't guarantee they're going to be in stock when you find one!
THAT'S how popular this 200-year tradition is!
What's The #1 Best Christmas Advent Calendar?
---
#1. Cannabis Christmas Advent Calendar
That's right friends, it's high time you spent the holiday's enjoying all things weed and with this fillable calendar, you can personally fill it with weed treats for the festive stoner in your life.
The calendar itself is very sturdy, with little drawers or cupboards that can fit a little weed nugget, cute edible gummies, and more creative marijuana parapharnelia.
We love that it comes empty and you can spent some time making, baking (and sampling) gifts to include inside.
You'll need to pre-order before November 18th 2020.
Buy it here. $24.99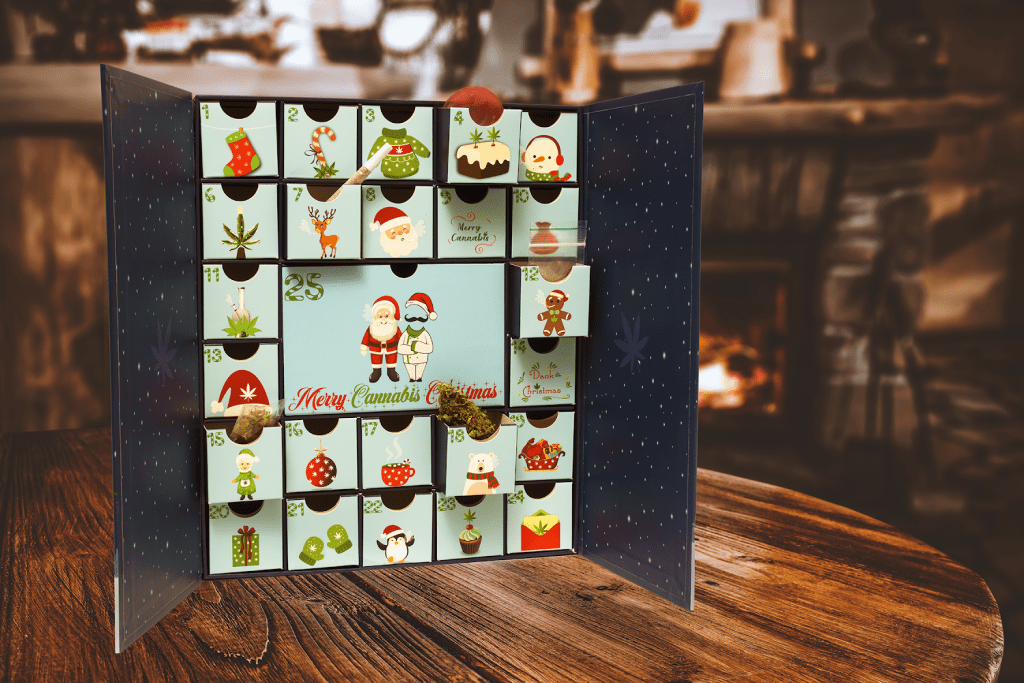 ---
#2. Godiva Chocolate Advent Calendar
Oh yeah. Luxurious chocolate for 25 days? Sign us up!
Enjoy classic Godiva milk chocolates, dark chocolates, and white chocolates like Milk Ganache Bliss, Raspberry Star, Dark Mint Medallion and so many more.
Buy it here. $39.95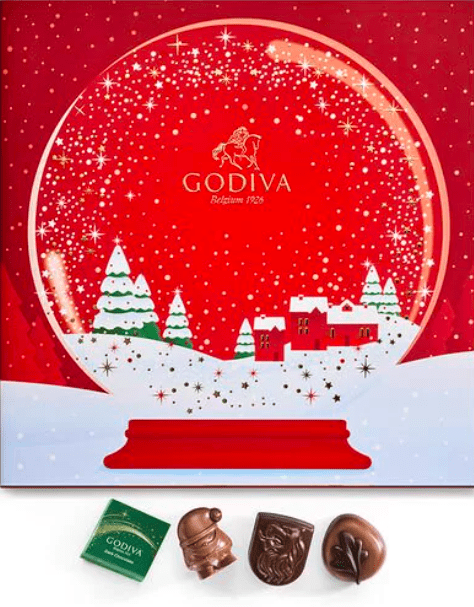 ---
#3. 12 Days Of Moose Munch
Moose Munch advent Calendar offers crispy premium popcorn for 12 days.
Who doesn't love popcorn? Sample star butter, fruits, nuts…even Cinnabon cinnamon roll and churro flavors, perfect for everyone – especially when you get the munchies!
Buy it here. $39.99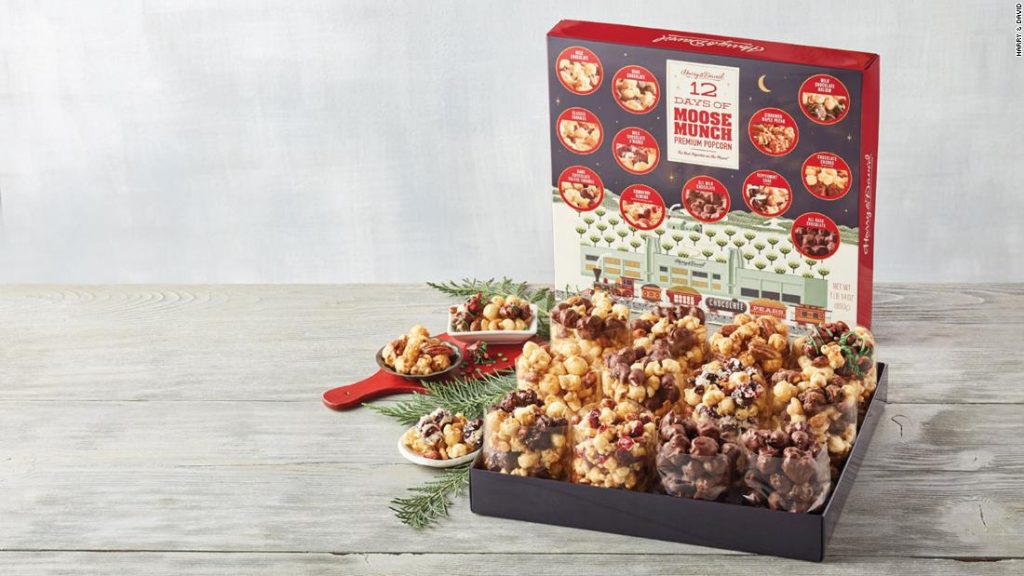 ---
#4. Hot Sauce Advent Calendar
Who says Christmas can't be hot and spicy?! With this sampler calendar, every day will be hot-hot-hot!
You'll get 25 x 2-ounce glass bottles of Hot sauce.
So if you are, or know a hot sauce enthusiast, this is THE perfect gift!
Buy it here. $79.99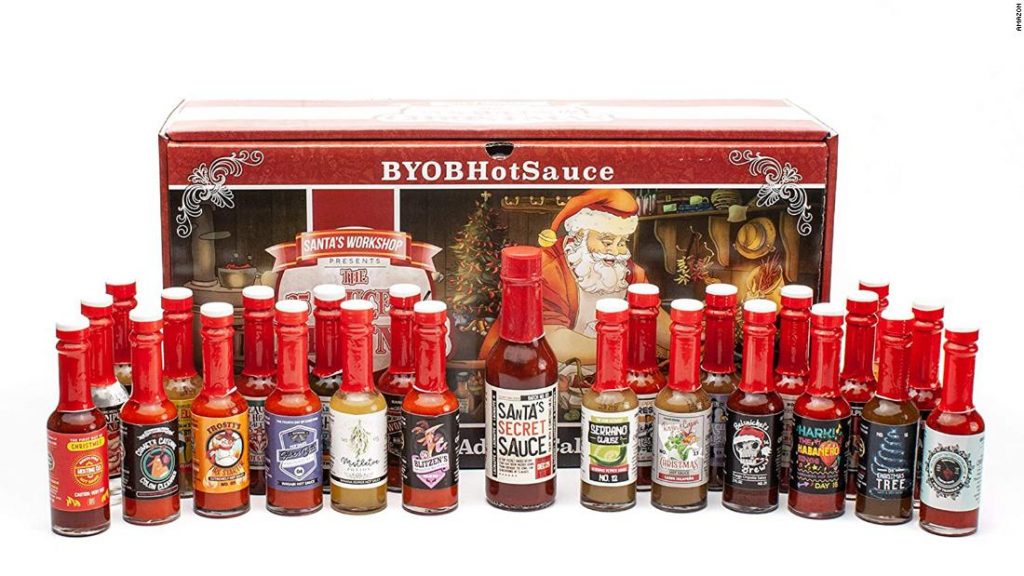 ---
#5. Beef Jerkey Advent Calendar
It's a Carnivore's Christmas with this fantastic calendar!
We love a good Cannabis-infused Jerkey, so while these aren't – you can still enjoy them after you get the munchies, every-single-day!
You'll get 25 beef jerky pieces like Ghost Pepper, Root Beer and Whisky Maple.
Sounds tasty!
Buy it here. $79.99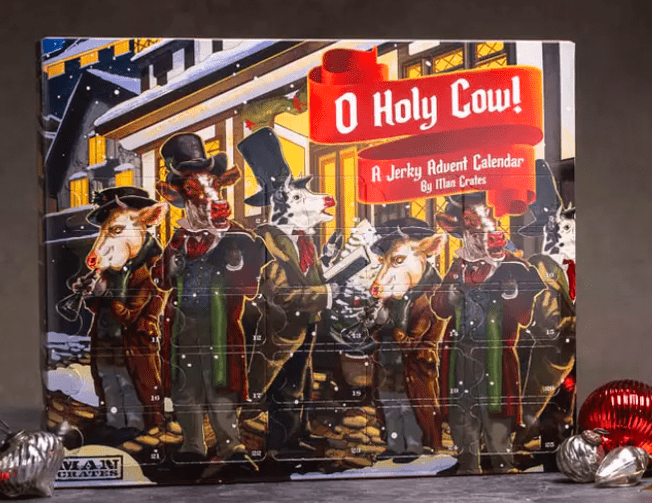 ---
#6. Skincare Advent Calendar
Balms, Concentrates and Creams, Oh my!
This luxurious skincare advent calendar from Kiehl's boasts that it contains over $200 worth of luxury products designed to keep you looking fresh during the season.
Might be time to puff, puff, purchase!
Want to wrap up some more fantastic skincare? Try this CBD Skincare Cream.
Buy it here. $98.00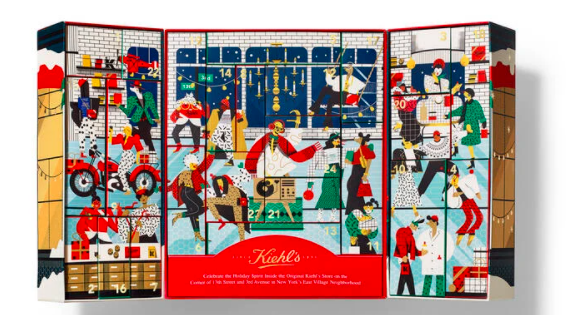 ---
#7. Nail Polish Christmas Calendar
With so many of us doing our nails at home, this fun little calendar holds 25 mini OPI nail polishes!
Try out a new or sinful colour every day of December and enjoy this fantastic gift set for yourself or someone else.
If you gift it to someone else, we bet they'll think you 'nailed it' this year with the best Christmas gift ever!
If you're looking to add a little stocking stuffer to your gift, you can purchase Dope Nailz Nail Polish here.
Buy it here. $47.00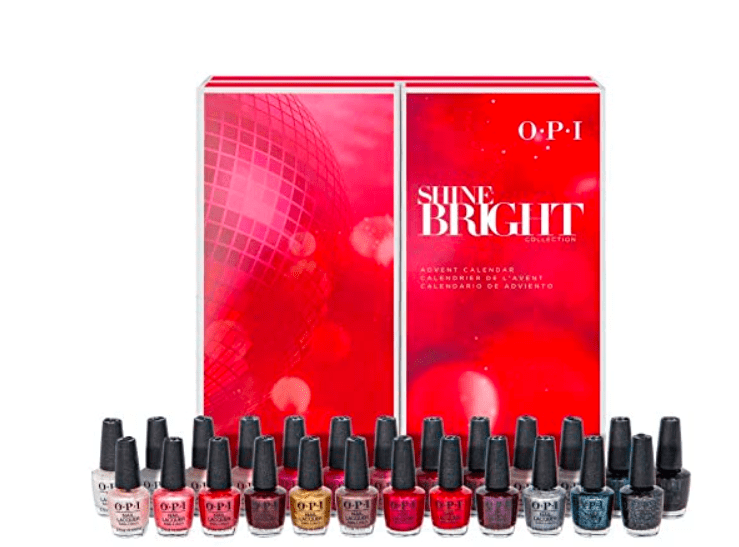 ---
#8. 24 Days of Tea Christmas Advent Calendar
What a 'tease'! You'll get 24 tasty and unique tea samplers from Canadian company David's Tea in this wonderful calendar!
Behind every door you'll find a selection of throwback faves, bestselling blends, sneak peeks – plus exclusive & limited-quantity teas.
Buy it here. $50.00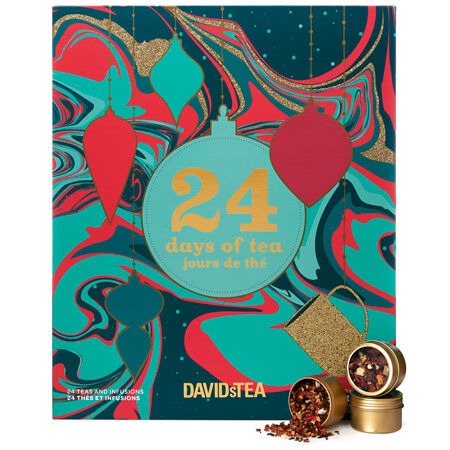 ---
Happy Countdown to Christmas!
If you've found other great advent calendars, or have ideas and suggestions for what to include in the Cannabis Christmas Advent Calendar, feel free to share in the comments below!